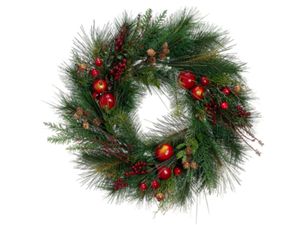 May each day bring thee something 
Fair to hold in memory 
Some true light to shine 
Upon thee in the after days 
May each night bring thee peace 
As when the dove broods o'er 
The young she loves; may day 
And night the circle of 
A rich experience weave 
About thy life, and make 
It rich with knowledge, but radiant 
With love whose blossoms shall be 
Tender deeds 
-Helen Van Anderson Gordon 
Wishing You A Happy Holiday Season! 
---
While it's been a quiet spell for me thanks to covid and omicron, hope is strong that live music will continue to be safely presented in the coming year. 
I've missed playing for you and plan to do a LIVESTREAM show on Thursday December 23rd at 7:00 p.m. 
Please join me by tuning in to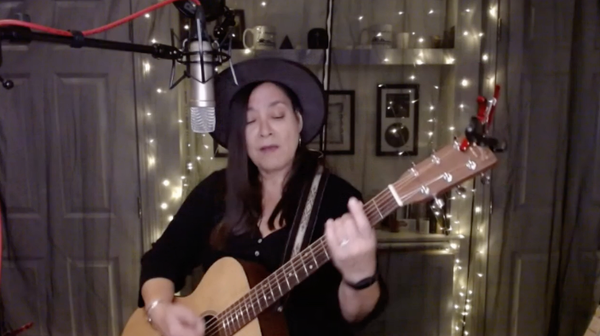 ** All tips will benefit the Family Table Collaborative ** 
The Family Table Collaborative (FTC) distributes prepared meals directly to individuals and families. We're creating a self-sustaining nonprofit working to end hunger on Cape Cod. 
---
I'm SUPER excited to share that starting in February 2022, 
I will be hosting the monthly 
SPIRE LOBBY SERIES SONG CIRCLE 
 at the Spire Center for Performing Arts 
in Plymouth, MA 
Each month will feature myself and 
two additional accomplished Singers/Songwriters! 
We'll will trade songs and stories "In The Round" style in this 
Listening Room Coffee House series with the brand new top shelf Lobby sound system offered by the Spire Center for Performing Arts! 
Check out the upcoming lineups at Spire Lobby Series!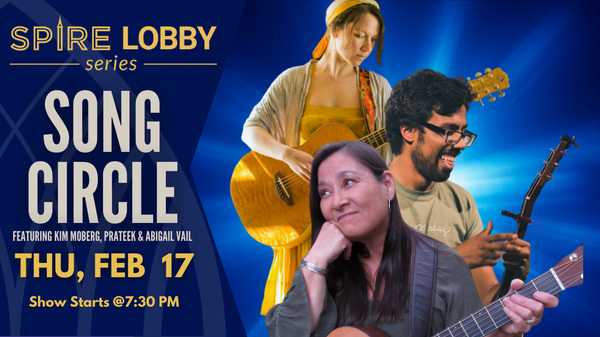 My guests in February will be: 
Abigail Vail 
Abigail has been writing music for over 10 years. She opened for such acts as Eddie Money, The Little River Band, Flydown and more. Venues include The Cape Cod Melody Tent, The South Shore Music Circus, PAC TV, WATD Radio, Hard Rock Cafe & Faneuil Hall in Boston, Marshfield MA Fair, The Spire in Plymouth MA, and many more around New England and as far as Ireland and Nashville TN. 
Women in folk of the 60's and 70's 
Beyond Abigail's original work she also performs as a cover artist with a set that is composed of a collection of compositions from women in folk music during the 1960's- 1970's. This set includes the work of Joni Mitchell, Melanie Safka, Joan Baez, Carly Simon and more. 
Prateek 
Prateek (pruh - TEEK) has been described as "Not just any guy with a guitar…" by The Boston Globe and perhaps that's the best introduction to his music besides actually listening to it. 
The Boston-based artist recorded his debut EP, "Walking in My Sleep," with only his guitar and two microphones in an attempt to emulate Bob Dylan's early work. Since then, Prateek's music has evolved to incorporate gritty electric guitars, silvery backing vocals, and lush strings, all draped around his own soulful, powerful voice. 
Prateek has been a Kerrville Folk Festival New Folk Finalist and has been nominated for Singer-Songwriter of the Year at both the New England Music Awards and the Boston Music Awards. His music has been played on radio stations including Sirius XM, 98.9 WERS, and 92.5 The River. His debut album, "The Band's All Gone," is available wherever digital music is sold or streamed. 
 * Proof of Vaccination and Masking Required * 
---
Stay tuned for upcoming shows, including .... 
....... Arts at The Armory with BETH DESOMBRE! 
....... The Spire Center for Performing Arts Opening for LIZ LONGLEY! 
---
I'd like to remind folks that our favorite digital listening platforms 
are less than fair in artist compensation, so if you are able, 
please visit the websites of your favorite artists 
and make a donation! 
Gillian Welch says it well..... 
https://www.youtube.com/watch?v=Sy6VMDXB2SQ
---
Thanks you all SO VERY MUCH for your ongoing support! 
It means so much to me to share music with you! 
Sending wishes for joy, peace and good health in the New Year! 
gunałchéesh!!!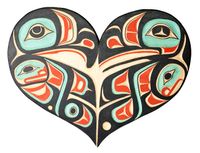 Sent from the traditional territory of the 
Indigeneous Nauset and Wompanoag (People of First Light) Tribes